Event Details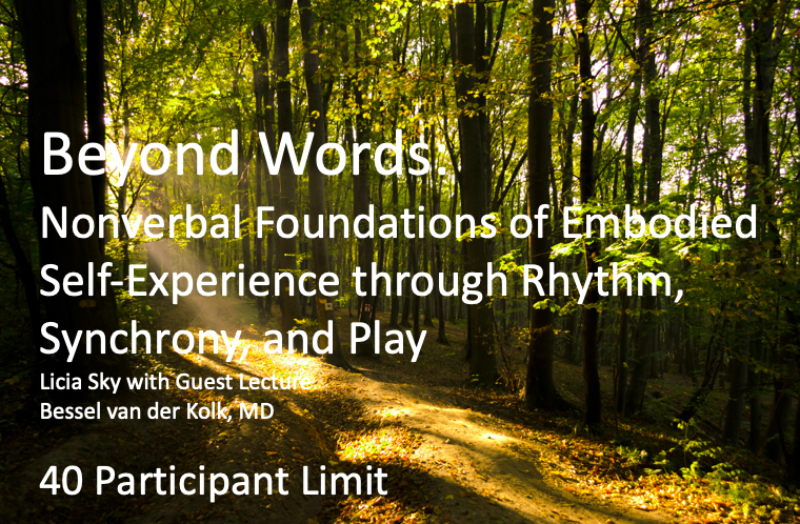 November 20th - 16th, 2020
Learn More

→
Join Licia Sky and guest speaker Bessel van der Kolk for a full day workshop exploring embodied awareness practices.
LIMITED TO 40 PARTICIPANTS
How we experience our bodies impacts how we process sensations and memories, and also affects how we heal from traumatic events. Talk-oriented therapists may wonder how to introduce embodied awareness into work with clients. Join Licia Sky and learn to follow the rhythms—of breath, heartbeat, footsteps, vocal expression, gesture, and conversation—and come into synchrony—attunement, alignment, proximity, safety, engagement, meaning making, and play. Explore exercises that guide attention to nonverbal awareness of physical sensations, orientation, attraction, and our split-second impulses and unconscious choices about relevance and safety.
Our own body awareness is an important barometer to track the states of both our ourselves and the people we interact with. Explore the neurobiology of self-experience and how to develop a practice with these exercises. Based on the upcoming book, The Body Keeps the Score Workbook, this program offers an array of non-verbal, experiential exercises drawn from theater, guided focusing, dance, meditation, yoga, bodywork, and Embodied Voice.
Bessel van der Kolk joins the group in the morning for a discussion and overview of the neuroscience of embodied experience.
Prerequisite: Must have completed the September Experiencing The Body Keeps The Score or any 2 day or weeklong intensive courses with Bessel van der Kolk
∞ Licia Sky, BFA
Licia is a Boston based somatic educator, writer, artist, singer-songwriter, and bodyworker who works with traumatized individuals and trains mental health professionals to use mindful meditation in movement, theater exercises, writing and voice as tools for attunement, healing and connection. She is a regular instructor in trauma healing workshops at Kripalu, and Esalen.
With more than 25 years of experience as a therapist and singer-songwriter, she leads therapeutic attunement-dynamic experiential exercises that integrate music, movement, vocalizing, and touch to foster safe, transformative, interpersonal connection.
She teaches regularly with Bessel van der Kolk MD at Kripalu, Cape Cod Institute, and Esalen on the topics of trauma, body and the brain & the restoration of one's self.
10:00AM EDT - 10:30 AM EDT --> Welcome & Introduction
10:30AM EDT - 11:30 AM EDT --> Lecture with Bessel van der Kolk, MD
11:30AM EDT - 11:45AM EDT --> Break
11:45AM EDT - 01:15PM EDT --> Beyond Words I
01:15PM EDT - 02:15PM EDT --> Break
02:15PM EDT - 03:45PM EDT --> Beyond Words II
03:45PM EDT - 04:00PM EDT --> Break
04:00PM EDT - 05:30PM EDT --> Beyond Words III