Event Details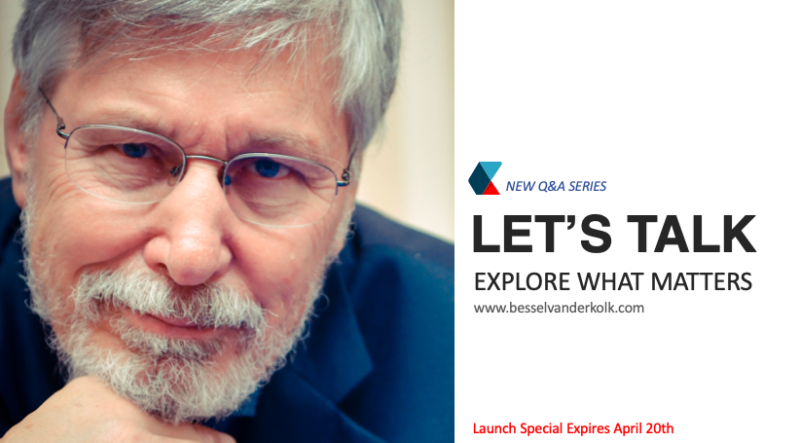 September 1st, 2020 - 4:30pm - 5:30pm
Register Now

→
AN OPPORTUNITY TO LEARN AND GROW TOGETHER AS A COMMUNITY
Let's Talk is an ongoing program that connects therapists (and students in training) with Bessel van der Kolk and other members of your community.

During each Let's Talk Q&A, Dr. van der Kolk we will discuss important issues, research, and case studies, as well as answer questions in a small group discussion format. The Q&A is designed to spark conversation amongst the group as participants have the option to make comments and ask follow up questions.
THERAPISTS LET'S TALK is scheduled the first Tuesday of each month at 4:30pm in. Each month will be unique. Event is recorded if you cannot join at this time of the event.
After participating in Let's Talk for Therapists, you will be able to:
- Learn and discuss some of the important issues and challenges within this community
- Describe research based treatment strategy alternative to talk therapy for treating trauma
- Explain how to help patients understand how their physiological reactions can be associated with trauma
- Analyze and communicate how traumatized people process information
Let's Talk for Therapists is great for:
- Therapists
- Mental Health Professionals
- Social Workers
- Students in training
REQUIREMENTS
To ensure that everyone receives the most out of this program, we require everyone to take the Foundation and Neuroscience course.

Cancellation Policy
We will honor cancellation requests submitted by email up to 1 week before the date of the scheduled Q&A. There is a 25% cancellation fee to be deducted from all refunds. Refund will not be issued for requests submitted less than 1 week from the Q&A.
We do not offer refunds for the online courses "Foundations of Trauma" and "Neuroscience and the Frontiers of Trauma Treatment". If you have any questions, concerns, or complaints about the courses, please direct your inquiry to Casey at [email protected]
The methods taught will augment psychotherapeutic interventions and are not known to have limitations when used in the scope and limits of one's knowledge.
APA, 1 CREDIT:
Target Audience: Counselors, Social Workers, Psychotherapists, Marriage & Family Therapists, Nurses, Psychologists, Addictions Counselors, Occupational Therapists, Case Managers, Other Mental Health Professionals
Sadar Psychological is approved by the American Psychological Association to sponsor continuing education for psychologists. Sadar Psychological maintains responsibility for this program and its content.
This program, when attended in its entirety, is available for 1 continuing education credits. The continuing education credits for each workshop/course are designated in the workshop/course descriptions. You must attend the entire program in order to receive the credit(s), complete the Participant Satisfaction/Evaluation form and return it to your presenter or monitor at the conclusion of the program. Partial credits will not be given. A participant may arrive no more than 10 minutes late nor leave more than 10 minutes early to receive credit for a program. There will be no exceptions.
There is no commercial support for this program nor are there any relationships between the Sadar Psychological, presenter, program content, research, grants, or other funding that could reasonably be construed as conflicts of interest.
The views of the presenters are theirs and do not necessarily represent a position by Sadar Psychological. Sadar Psychological is committed to accessibility and non-discrimination in its continuing education activities. Sadar Psychological is also committed to conducting all activities in conformity with the American Psychological Association's Ethical Principles for Psychologists. Participants are asked to be aware of the need for privacy and confidentiality throughout the program. If program content becomes stressful, participants are encouraged to process these feelings during discussion periods. If participants have special needs, we will attempt to accommodate them in accordance with ADA requirements. Please address questions, concerns, and any complaints to Casey at [email protected]

It is the responsibility of every attendee to abide by the standards set forth in the APA Code of Ethics for maintaining security and confidentiality of any test materials and proprietary information presented as part of this continuing education program. Any materials used as part of this program may not be copied or otherwise distributed, and no proprietary information will be disclosed by attendees to any person not registered for this program.
The methods taught in this program are assumed to be risk free when utilized and administered by psychologists who work within their area or knowledge or expertise