Event Details

November 21st, 2023 - 8:00pm - 9:15pm
Learn More

→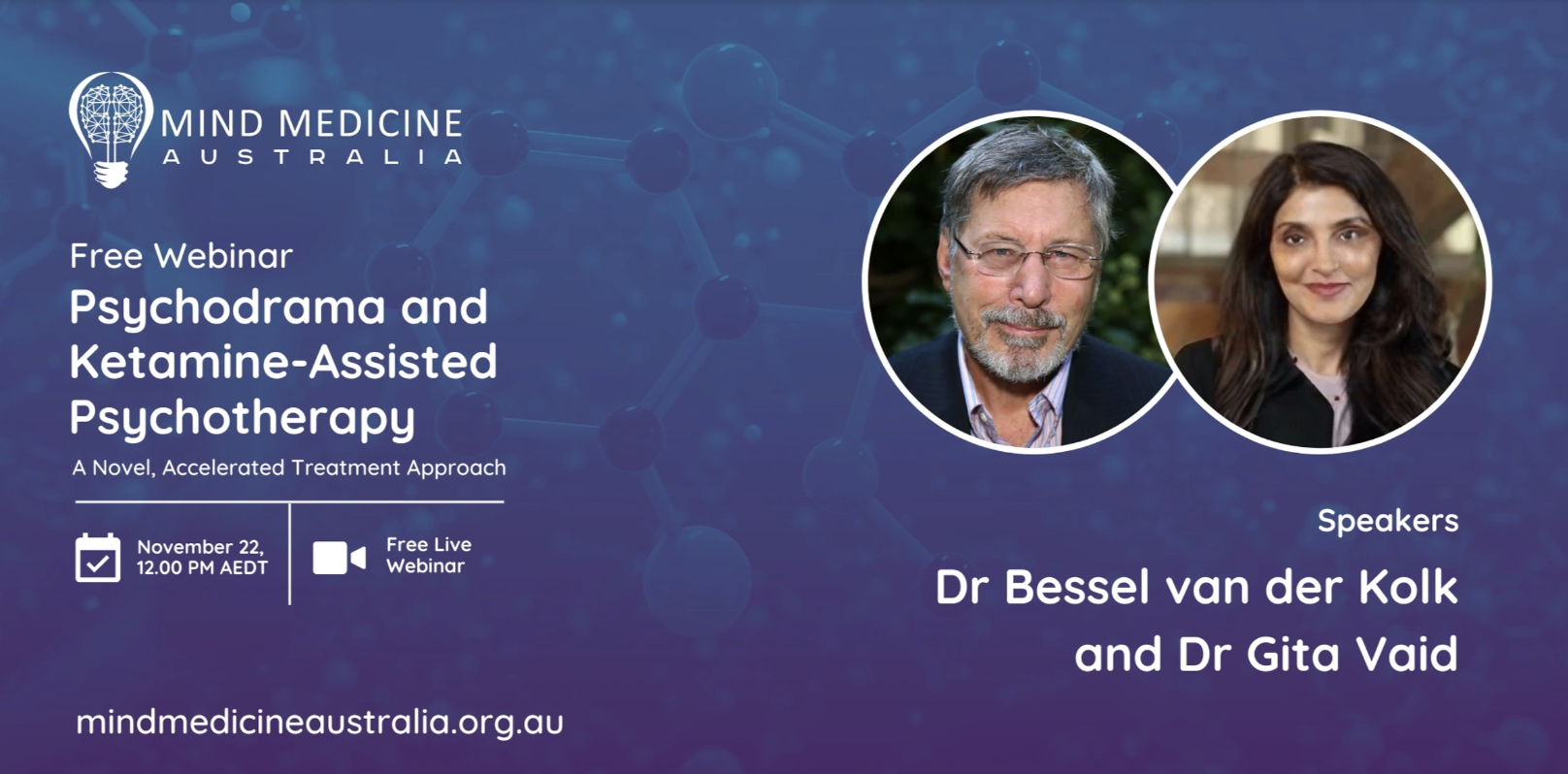 Mind Medicine Australia FREE Webinar - Psychodrama and Ketamine Assisted Psychotherapy: A Novel, Accelerated Treatment Approach with Dr Bessel van der Kolk (USA) & Dr Gita Vaid (USA)
Don't miss out - Get your tickets early!
Join this FREE WEBINAR presented by Dr Bessel van der Kolk (USA) & Dr Gita Vaid (USA)
TOPIC: Psychodrama and Ketamine-Assisted Psychotherapy: A Novel, Accelerated Treatment Approach
Dr Bessel van der Kolk and Dr Gita Vaid will discuss a novel experimentation workshop model to display clinical excellence, educate and raise awareness of psychedelic psychotherapy.
The session will draw from their Psychodrama/Ketamine-Assisted Psychotherapy (KAP) Workshop in 2022, as well as their recent workshop at MAPS' Psychedelic Science conference. In these workshops they investigated combining these complementary modalities. A clinical laboratory approach was utilized to experiment and display how these treatment approaches might be combined and modified to tailor various elements, reveal psychotherapeutic findings and clinical considerations in a crucible that simulates real-world clinical practice.
In this webinar you will learn about:
Psychodrama methodology
Concerns raised in considering augmentation with KAP
KAP approach, including considerations/questions to be explored in the clinical experiment
Sharing footage from psychodrama/KAP workshops
EVENT DETAILS
DATE: Wednesday 22 November 2023
TIME: 11:55pm (AEST) for 12:00pm start, finishing at 1:15pm
DURATION: 75 minutes (incl Q&A)
LOCATION: Online - a link will be emailed to you with the viewing details
ABOUT THE PRESENTER

Dr Bessel Van der Kolk (USA)
Psychiatrist, Author, and Researcher


​Bessel van der Kolk MD spends his career studying how children and adults adapt to traumatic experiences, and has translated emerging findings from neuroscience and attachment research to develop and study a range of treatments for traumatic stress in children and adults.
In 1984, he set up one of the first clinical/research centers in the US dedicated to study and treatment of traumatic stress in civilian populations, which has trained numerous researchers and clinicians specializing in the study and treatment of traumatic stress, and which has been continually funded to research the impact of traumatic stress and effective treatment interventions. He did the first studies on the effects of SSRIs on PTSD; was a member of the first neuroimaging team to investigate how trauma changes brain processes, and did the first research linking BPD and deliberate self-injury to trauma and neglect in early childhood.
Much of his research has focused on how trauma has a different impact at different stages of development, and that disruptions in care-giving systems have additional deleterious effects that need to be addressed for effective intervention. In order to promote a deeper understanding of the impact of childhood trauma and to foster the development and execution of effective treatment interventions, he initiated the process that led to the establishment of the National Child Traumatic Stress Network (NCTSN), a Congressionally mandated initiative that now funds approximately 150 centers specializing in developing effective treatment interventions, and implementing them in a wide array of settings, from juvenile detention centers to tribal agencies, nationwide.
Dr Gita Vaid (USA)
Psychiatrist, Psychoanalyst and Co-Founder at Center for Natural Intelligence

Gita Vaid MD is a board certified psychiatrist and psychoanalyst a co-founder of the Center for Natural Intelligence, a multidisciplinary laboratory dedicated to psychedelic psychotherapy innovation and clinical practice. A lead instructor at The Ketamine Training Center and member of the Mount Sinai Psychedelic Psychotherapy Research and Trauma Center, she is a Multidisciplinary Association for Psychedelic (MAPS) – trained psychedelic psychotherapist practicing ketamine assisted psychotherapy in New York City. Dr Vaid completed her psychiatry residency training at NYU Medical Center and psychoanalytic training at the Psychoanalytic Association of New York. She trained as a Fellow in clinical psychopharmacology and neurophysiology at New York Medical College and completed a research fellowship at NYU Medical Center. Dr Vaid serves as the Director of Psychedelic Awareness at The Chopra Foundation.