A lecture and dialogue with Bessel van der Kolk (in English)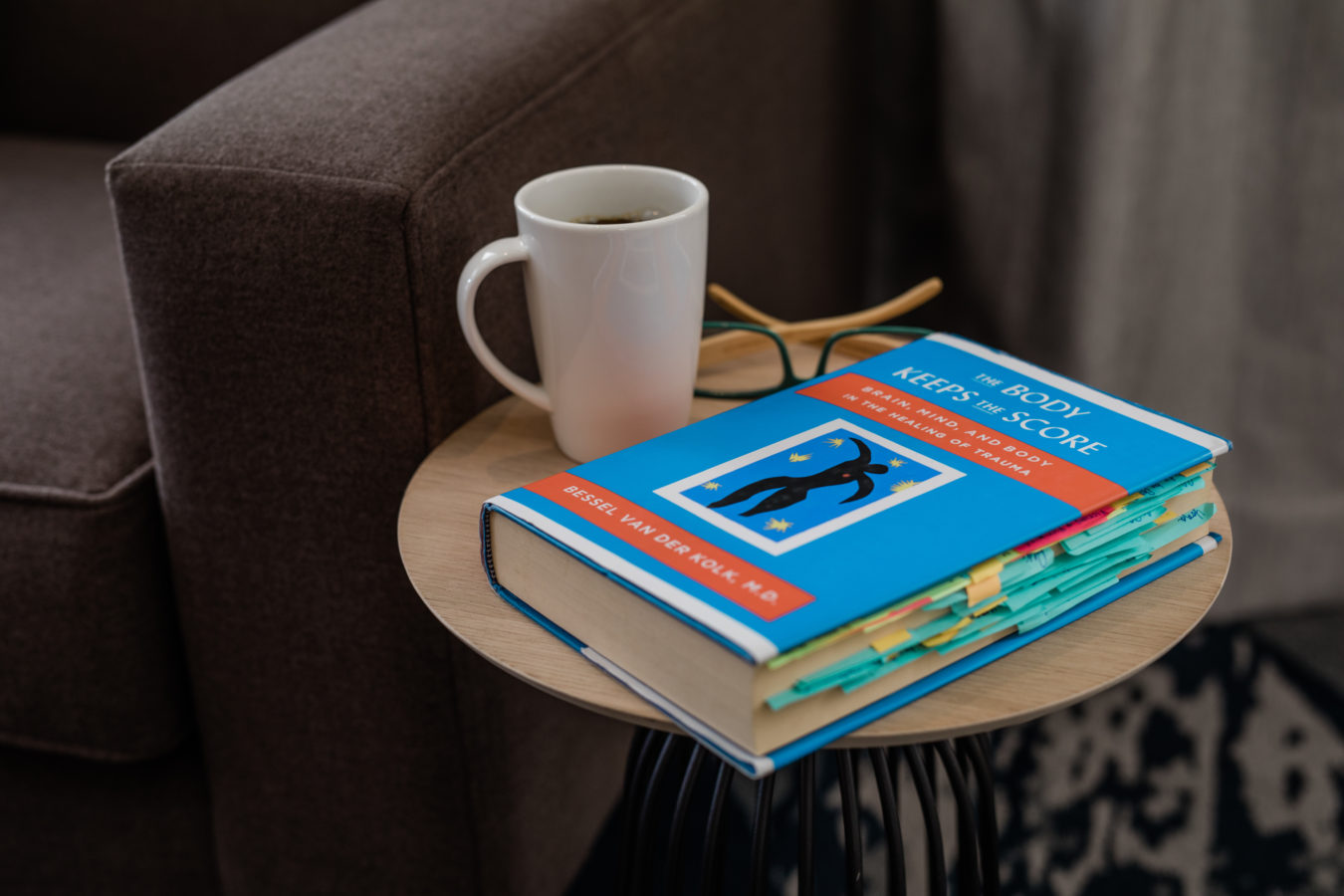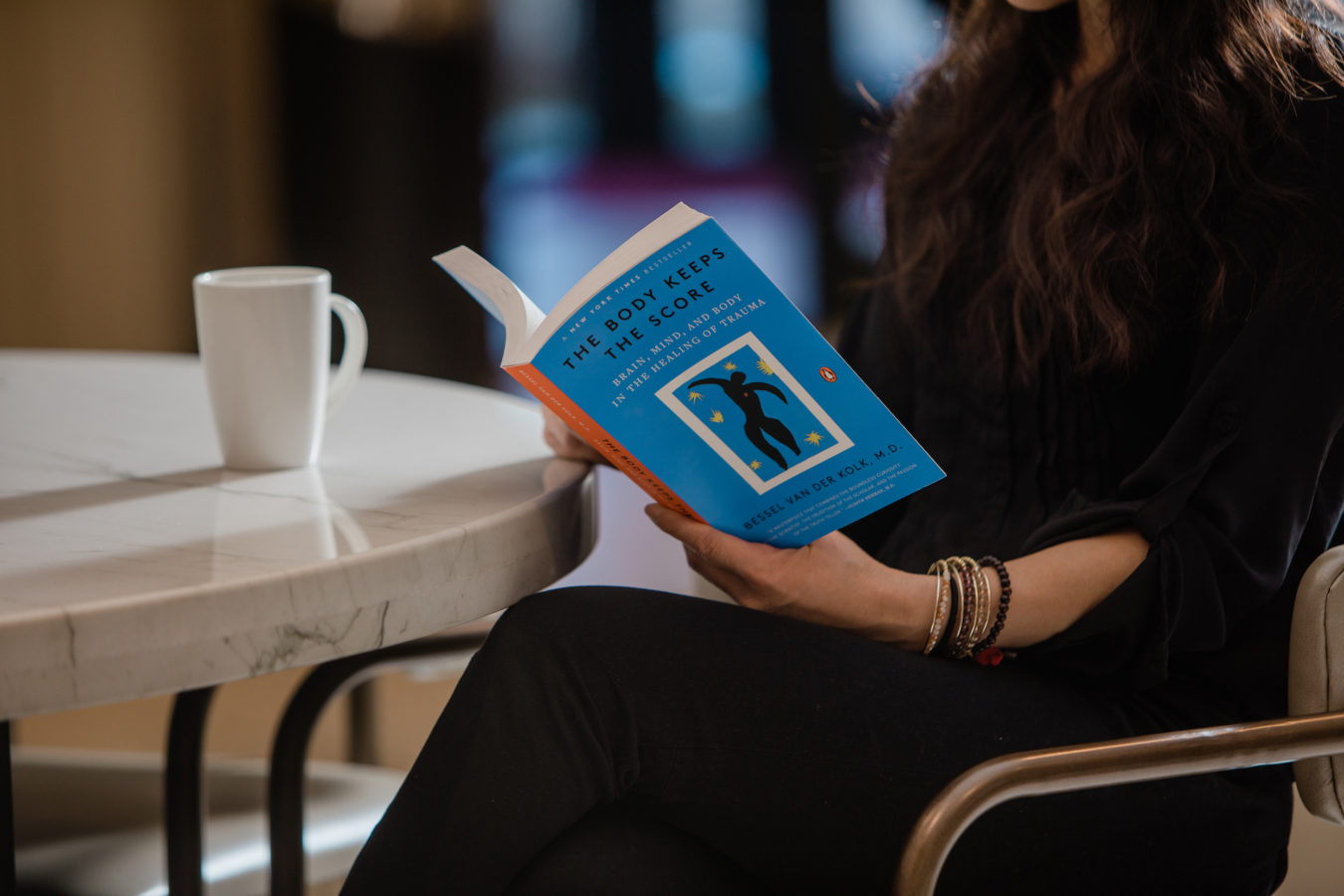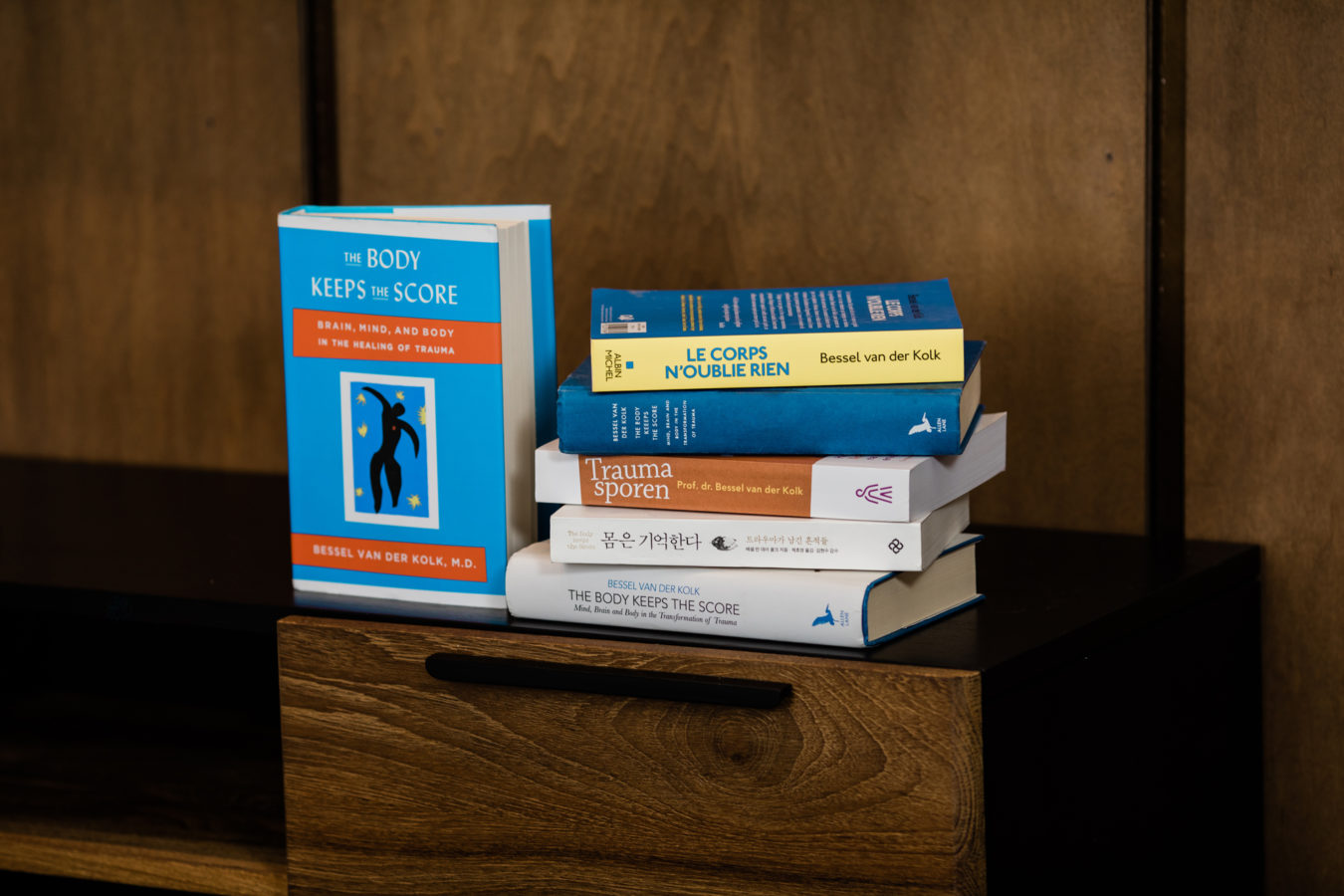 October 20, 27, November 3, 10
12:00 PM - 1:30 PM Eastern Time
45 Minute Lecture + 45 Minute Open Dialogue


CE Pending Application: ACCME, ANCC, APA, NY PSY, and ASWB

4 week program with Bessel van der Kolk
In this dynamic, interactive series, Bessel van der Kolk, M.D. expands on his groundbreaking work The Body Keeps the Score, where he synthesizes history, neurology, and trauma research to deepen our understanding of trauma and trauma treatment.
We invite you to join us for this distinctive and exciting 4 week program where Dr. van der Kolk will begin with a lecture followed by an open dialogue Q&A session. This is an exciting opportunity to explore ideas, critically examine trauma and trauma treatments, and hear directly from Dr. van der Kolk about the things that most ignite your interests.
Each of the 4 sessions are 1.5 hours, with the time divided between lecture and dialogue with Dr. van der Kolk. Questions can be submitted both in advance and live during the session. Your questions, thoughts, and ideas will help shape the series.
Prepare for this program by reading Dr. van der Kolk's celebrated and groundbreaking work The Body Keeps the Score and watching two foundational courses featuring Dr. van der Kolk, which are included with your registration. Reference slides will also be provided.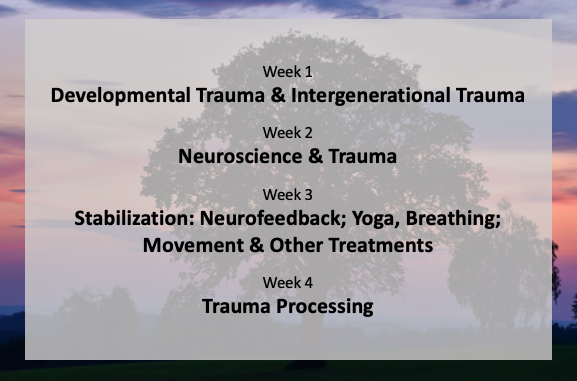 Week 1
Developmental Trauma & Intergenerational Trauma
In response the lack of attention to what has been called the greatest threat to our nation's public health, child abuse and neglect, the National Child Traumatic Stress Network has proposed a new clinical syndrome, Developmental Trauma Disorder, to more precisely capture the constellation of problems that require clinical intervention in this population.
In this opening session, Dr. van der Kolk discusses how when a diagnostic system does not include a diagnosis that captures the actual symptoms of a vast population of disturbed human beings, people with these symptoms are forced to receive inappropriate diagnoses and treatments. Currently, abused and neglected children receive such widely disparate diagnoses as bipolar disorder, conduct disorder, ADHD, phobic anxiety, reactive attachment disorder, and separation anxiety. All of these diagnoses are etiologically unrelated to trauma, and lead to pharmacological and behavioral control at the expense of dealing with fear, shame, terror, and rage that are derived from real threats to these children's survival.

Objectives

Explain what trauma is and how it impacts differently at different stages of development

Discuss the nature of traumatic memories

Explain how the attachment system affects the processing of traumatic experiences

Describe how children process trauma and how the attachment bond cultivates resilience

Identify how trauma affects physical health and immune function.
Week 2
Neuroscience and Trauma
The development of neuroscience over the past two decades has provided new insights into how trauma impacts brain development and how the brain deals with overwhelming experiences. These findings call for a range of new approaches to trauma treatment, such as affect regulation techniques, dealing with traumatic memories, sensory awareness, and sensorimotor integration. Since traumatic imprints are stored in subcortical brain areas and are largely divorced from verbal recall, a central focus in treatment needs to be on the somatic experiencing of trauma-related sensations and affects. During this week's session, we will examine how neuroscience research has elucidated the fundamental brain mechanism of self-regulation.
Objectives

Identify the basics of the brain circuitry involved in self-experience, salience, and executive functioning, and how these are impacted by trauma

Describe how the polyvagal theory is relevant to clinical practice

Demonstrate how rhythms, synchronicity, and movement are critical for normal functioning and their role in healing from trauma

Explain basic features of normative brain development
Week 3
Stabilization: Neurofeedback, Yoga, Breathing; Movement and Other Treatments
The body is one of the theatres where the memory of trauma is re-enacted. Traditional western psychotherapy has approached the resolution of trauma as something that needs to be understood, worked through, and put into the larger perspective of one's life. Informed by the neurobiology of trauma, this week we explore how various interventions can change core neurobiological, trauma-related deficits. We will explore the role that these interventions play in changing heart rate variability, interoceptive capacities mediated by the medial prefrontal cortex, being able to take action mediated in part by the anterior cingulate, orientation via changing activity of the posterior cingulate, and increase tolerance of sensory experiences mediated via the insula.

Objectives

Discuss a range of body-oriented treatment modalities and how they work

Discuss the role of yoga, dancing, and martial arts in dealing with PTSD

Define neurofeedback and explore what role brain training has in self-regulation and executive functioning

Learn about mastery of rhythms and sensate experience, like yoga and sensorimotor processing, to heal from trauma

Participants will be exposed to the potential role of both traditional and innovative techniques in the future of the field of traumatic stress and summarize treatment strategies and alternatives to drugs and talk therapy
A continuation of the week 3 discussion, we will further explore how we can change people's internal map of predictions and expectations by introducing new experiences with precision, attunement, and interaction. The organization of the emotional brain is notoriously resistant to modification by reason or understanding, but movement, touch, and auditory and visual input can all play a role in processing trauma. Accessing imagination, made possible using innovative methods like EMDR, psychedelics, Internal Family System (IFS), and psychodrama, is a critical piece of ending the cycle of re-enactment and suffering.
Objectives
Explain how trauma impacts the processing of subsequent experiences

Gain an understanding of the role of timing and pacing in trauma processing

Examine & explain how traumatized people's ability to process information is disrupted

Learn how physical mastery, memory processing, affect regulation, sensory integration and other techniques can help people from moving from being trapped in their traumatic past into living in the present

Discuss current research being done on psychedelic therapies

Discuss EMDR, IFS, and psychodrama and why these body-oriented practices are effective in treating trauma

Describe the use of theater and psychodrama in healing from trauma
Register
1. Program in English
$250.00
Webinar Only
Included features:
Includes Instant Access to 60-minute video lecture: "The Foundations of Trauma"
Includes Instant Access to 60-minute 90-minute video lecture: "Neuroscience and Frontiers of Trauma Treatment"
4-week live program: 90 minutes each
Optional networking after each live event
Recordings available for 45 days
The Body Keeps The Score: Brain, Mind, and Body in the Healing of Trauma
Trauma is a fact of life. Veterans and their families deal with the painful aftermath of combat; one in five Americans has been molested; one in four grew up with alcoholics; one in three couples have engaged in physical violence. Dr. Bessel van der Kolk, one of the world's foremost experts on trauma, has spent over three decades working with survivors. In The Body Keeps the Score, he uses recent scientific advances to show how trauma literally reshapes both body and brain, compromising sufferers' capacities for pleasure, engagement, self-control, and trust. He explores innovative treatments—from neurofeedback and meditation to sports, drama, and yoga—that offer new paths to recovery by activating the brain's natural neuroplasticity. Based on Dr. van der Kolk's own research and that of other leading specialists, The Body Keeps the Score exposes the tremendous power of our relationships both to hurt and to heal—and offers new hope for reclaiming lives.
Order Book

→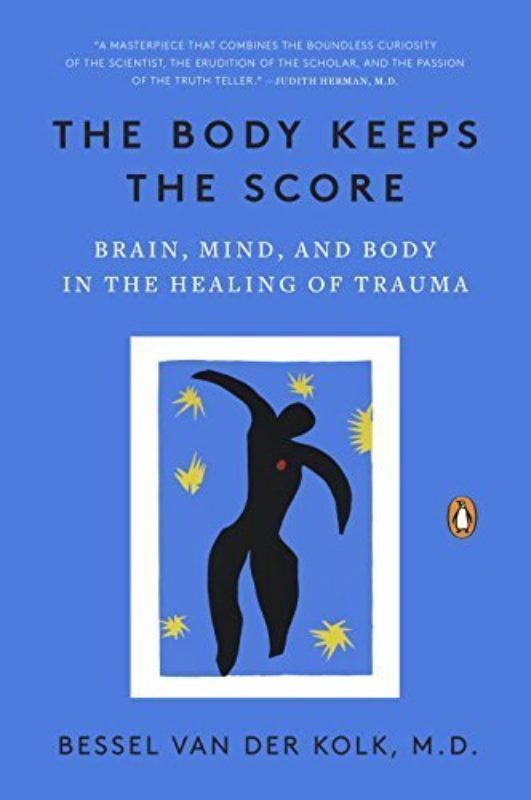 1. Read The Body Keeps The Score
2. Watch the 60 minute lecture "Foundations of Trauma" (included in registration)
3. Watch the 90 minute lecture "Neuroscience and Frontiers of Trauma Treatment" (included in registration)
Sign up for free resources
Isreal
Pardes Publishing
"נרשם בגוף: מוח, נפש וגוף בריפוי מטראומה" של הפסיכיאטר ד"ר בסל ואן דר קולק עומד להיות ספר הפסיכולוגיה הנקרא ביותר בישראל בשנה הקרובה, ואולי גם בחמש השנים הקרובות, ובצדק."
Learn More

→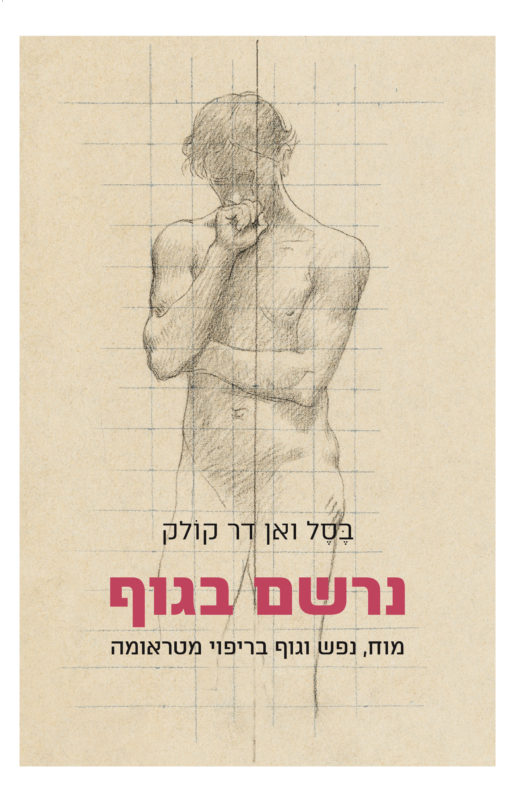 Subscribe
Sign up with your email to receive news and updates.